Central Print Control
& Tracking Software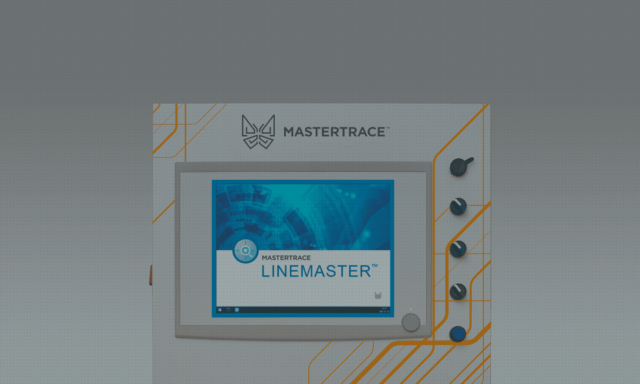 IMPROVES EFFICIENCY AND INCREASES PRODUCTIVITY ON PRODUCTION LINES
Why start using it?
To keep up with the increasingly complex quality requirements in the field of marking technology, companies that are increasing their production capacity need to apply harmonised, system-level software solutions in addition to hardware compatibility.
The most optimal way to do this is to implement central print control, which gives you full control of your print and control devices, regardless of their volume or geographical location. This comprehensive control provides greater transparency for both the production and work organisation processes and the traceability of raw materials and products.
Print control and tracking solutions from Masterprint
We strive for continuous innovation not only in hardware, but also in software. We offer the highest quality system-level solutions for marking tasks in any industry. In addition to our proprietary serialisation stations, robotic cells, print image inspection cameras and other premium equipment, we also support production companies' marking processes with centralised print control and tracking software modules. A PLC-based central controller is responsible for communication between the individual modules and all the devices integrated into the system.

THE BENEFITS OF CENTRAL PRINT CONTROL AND SERIALISATION
IT SAVES TIME AND MONEY

Production runs smoothly and error free. Changeovers do not hamper production.
TRANSPARENCY
AND TRACEABILITY
It ensures that incoming and outgoing raw materials and products are controlled.
IT INSPIRES CUSTOMER
CONFIDENCE
It ensures the authenticity of the product and the option to immediately recall defective items.
TRADEMARK PROTECTION
It helps to protect your company's reputation against counterfeits.
MEETING REGULATORY
REQUIREMENTS
It complies with current and future legal requirements.
MODULARITY
AND SCALABILITY
As production grows, additional features can be added to the software.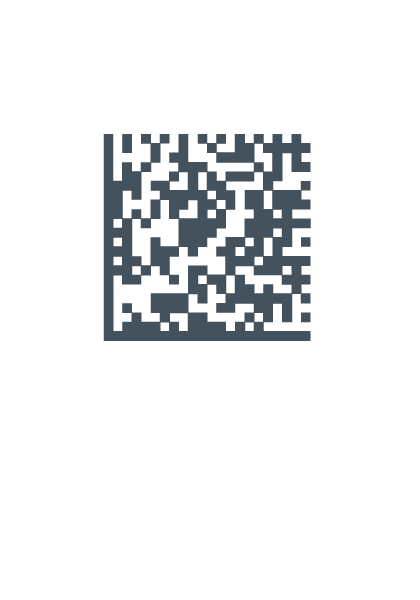 Industrial applicability
Central print control is a fully industry-independent solution. Flexible configuration options in any segment allow you to integrate printers, PLCs and other quality control tools into a single system to meet industry-specific needs, which helps increase production efficiency.
In sectors where regulatory requirements or strict health demands require that products be accompanied by standardised product traceability data, serialisation can be facilitated by the introduction of print control software modules.
This is primarily the case in the following industries:
#Agrochemistry #Food #Beverage #Pharmaceutical
Masterprint Software for Central Print Control & Product Tracking
LINEMASTER™
for Print Control
With Linemaster, our central print control and monitoring module, you can integrate your marking devices into a system based on Industry 4.0 connectivity, communication and decision-making principles.
Linemaster is a powerful tool for coordinated system management and for issuing production instructions, even in production plants where marking, labelling and packaging work is carried out simultaneously on several production lines or even at several sites. Centrally controlled, real-time data management and delivery makes workflows more transparent, eliminates errors due to duplication, and reduces the time needed for changeover caused by device coordination.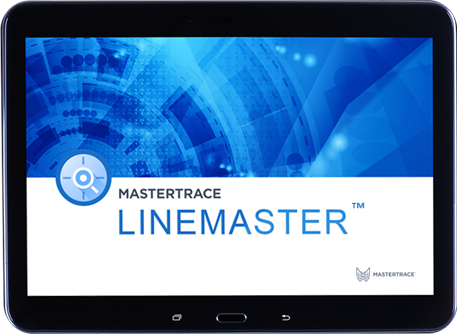 OVERVIEW
Minimise changeover times
The Mastertrace Linemaster™ central print control and monitoring software solution is a must for production plants that are putting into operation new production lines on which various items need packaging, marking and labelling. In cases like this it is possible that more downtime in changeovers is required because it takes time to get all the tools aligned.
Integration into the system
With our Industry 4.0 compliant software, you can integrate printers, PLCs, quality control cameras and other elements into one system. This allows you to control them and issue production instructions.
Fully customisable
Linemaster™ software supports a wide range of production processes with the flexibility to meet your specific needs.
Industry-independent
The most important advantage of this system is that it can be connected to any device, regardless of the industry, and can control both the devices already on the production line and those we install ourselves.
SITEMASTER™
for Track & Trace
Masterprint Sitemaster is a product and material tracking system developed specifically for serialisation based on unique identification. Centrally controlled product tracking allows you to trace the entire life cycle of each product step by step, so that you can always identify its location not only during the production process, but also after it has left the factory.
This allows us to recall products quickly and easily in the event of any complaints or faults. In addition to finished products, raw materials can also be uniquely identified, meaning they are easy to locate and supplier details are immediately available if there are any problems.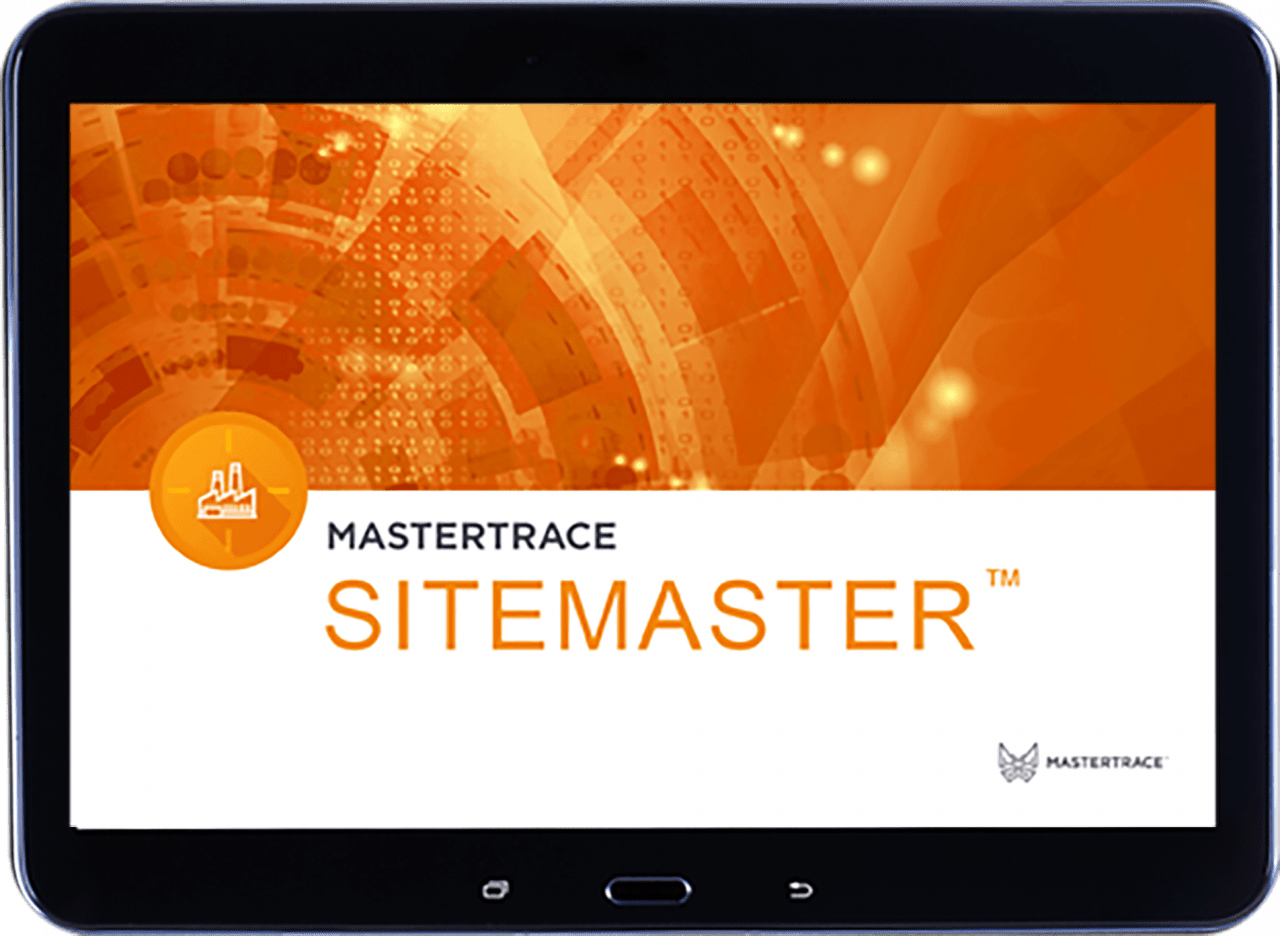 OVERVIEW
Product and raw material tracking system
Mastertrace Sitemaster™ is not a business management system, but a product and raw material tracking system developed specifically for individual product identification.
Traceable product lifecycle
Sitemaster is a central program that runs on a factory server that can see into every stage of production in which products are marked and marks are scanned. In this system, the entire life-cycle of each item can be traced step-by-step.
Fast response to complaints
It is not only the finished products that have to be uniquely identified, but also the raw materials that enter the production site or warehouse. In the event of a complaint, it is then possible to clearly identify the supplier of the raw material for the product in question.
Compliance with legal requirements
It ensures 100% compliance with the highest customer and production requirements, complying with the latest EU (EU FMD), Russian and other national regulations, GS1 directives and severe safety requirements.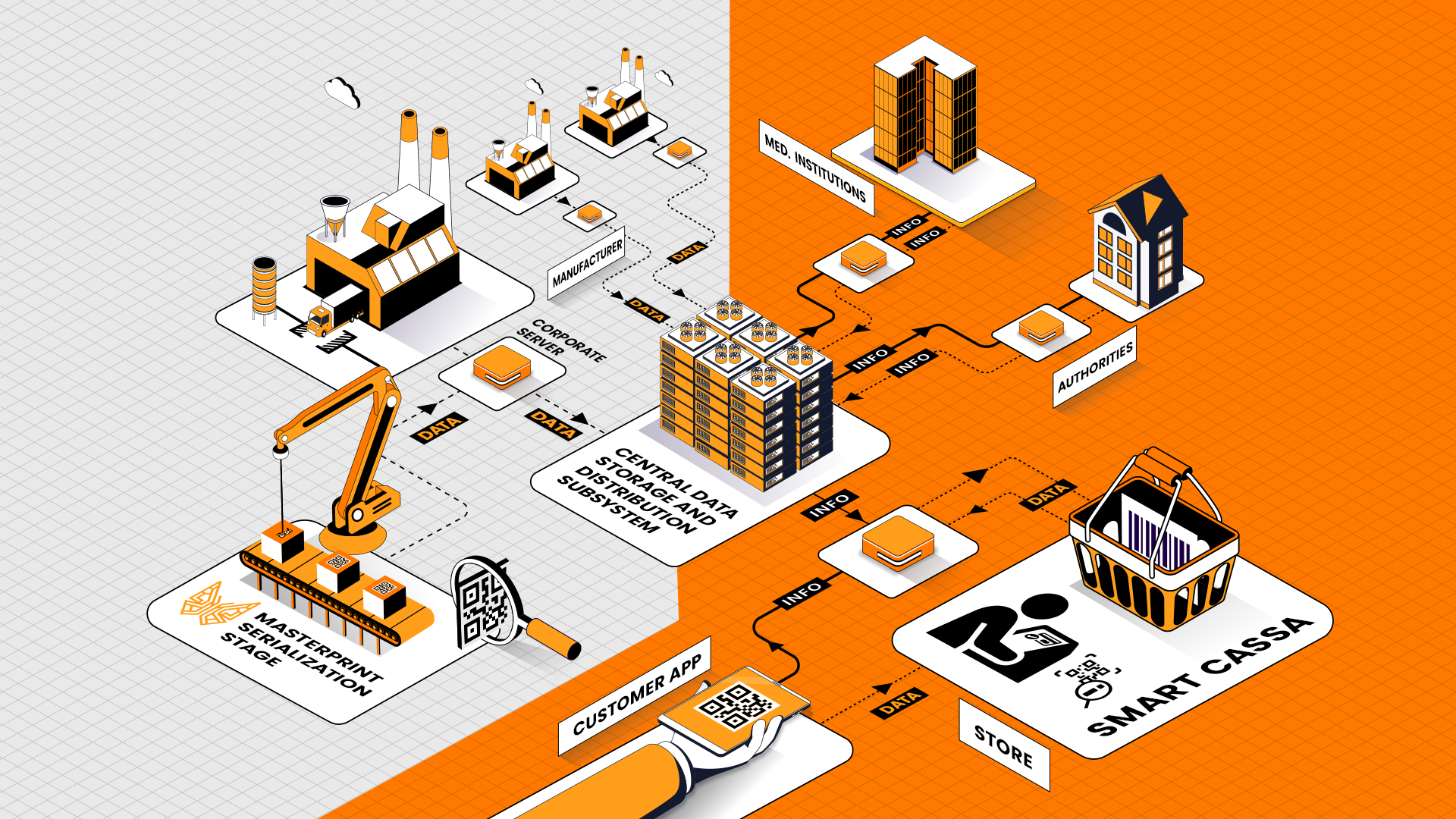 Unique Identification and Product Tracking System Levels
FULL ALIGNMENT AT ALL LEVELS OF THE PRODUCTION AND SUPPLY CHAIN
Product Flow
Unique identification of products, trunk boxes and pallets to enable step-by-step tracking of raw materials and products throughout their life cycle.

Devices (Level 01)
Printers, quality control cameras and PLCs are controlled by a single piece of software, ensuring that all devices work in harmony.

Packaging Line (Level 02)
With the Industry 4.0-compliant MASTERTRACE LINEMASTER™ software, we integrate all your marking tools into one system to control them and issue production instructions.

Production Plant (Level 03)
The MASTERTRACE SITEMASTER™ software stores serialised information and SSCC identifiers in the Manufacturing Execution System (MES), ensuring data flow and management between the monitoring system and the ERP.

Corporate (Level 04)
With the MASTERTRACE SITEMASTER™ product and material tracking system, the entire lifecycle of each item can be traced back step by step. Also, once production has finished, production data can be sent to an upstream server, to other actors in the supply chain (e.g. a client or a public authority).